Custom Application Development
Custom Application Development
TechPoint Solutions specializes in project management and delivery in the following areas:
We are dedicated to making our clients successful. Our business model enables our clients to select the most effective approach for achieving their goals. Our technical teams are available for development work at our client's site, offsite at one of our facilities, and offshore at our engineering facility in India. Our teams are managed by experienced project managers accustomed to distributed projects. By offering our clients development options, we are able to keep their costs low and product quality high.
TechPoint Solutions also provides staff augmentation services. Many companies find it challenging to respond to constantly changing technology needs and initiatives using only internal staff. Acquire strategic skills in a timely and cost-effective manner is difficult. Many CIOs, MIS directors, and technical managers turn to TechPoint Solutions for quality project support resources. TechPoint Solutions affords companies the ability to quickly respond to technology initiatives by strategically acquiring skills and cost-effectively managing available resources.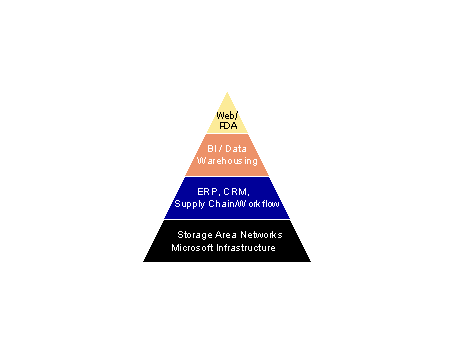 TechPoint Solutionís Models
Application Development

Application Support

Application QA and System Testing

System and Database Administration

Staff Augmentation

Microsoft Deployments
The Techpoint Unique business model
Our unique Onsite / Offsite / Offshore Model allows for coordinated architecture and design hand-in-hand with quality delivery at lower cost points
Market Challenges
Integrating increasing amounts of information into an environment that enables decision making from the office or the field can be a daunting task. Current business environments include many disparate applications, both legacy and packaged. From these environments, information must be extracted, transformed and organized for delivery to appropriate personnel.
Techpoint both presents and mobilizes this information, enabling just in time decision making from across the campus or across the region. In addition, it is important to not only arm the decision maker with information, but the capacity to act upon it. This is why the Techpoint solutions framework includes the ability to connect from the remote location to the enterprise information system to inform, inquire, or act upon the information received.
Techpoint Framework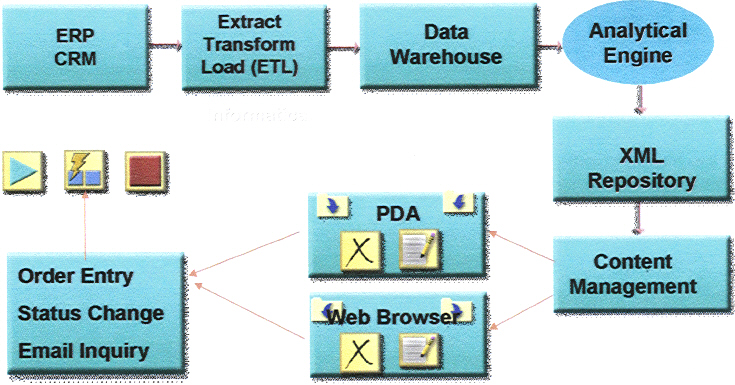 Key Knowledge Points
In this decision support matrix, it is important to not only understand the presentation of information, but also the infrastructure and application requirements to pull together the information for analysis prior to presentation, and the Business Processes at work in order to enable actions on the information utilizing enterprise workflow. These knowledge points include:
Microsoft Infrastructure (Windows 2000/XP, Exchange Server and Outlook)

Storage Area Network Design and Deployment

Enterprise Application Integration and Workflow using connectivity to CRM and ERP systems

Data Warehousing

Business Intelligence and Analytics

Presentation of the analytics into a Dashboard framework, customized to key needs

Web and Mobile(PDA) platform knowledge to understand the demands of varying presentation spaces

Wireless knowledge to enable local wireless or field wireless (two entirely different items)